Community Learning & Development
Moray Council created a new Communities (CLD) Service in April 2021 bringing together Adult and Family Learning, Youth Work, and community development through the Community Support Unit
Community learning and development covers a range of work including youth work, adult leaning and community development.   "CLD should empower people, individually and collectively, to make positive changes in their lives and their communities through learning" (Scottish Government).
Communities CLD Service Update 2022
Click the button below to access a SWAY presentation to find out more about some of the work being carried out by the teams and check back in for our quarterly updates.
July - September 2022 Activity Update
April - June 2022 Activity Update
Jan - March 2022 Activity Update
Our Partnership CLD Plan 2021-2024
The requirements for Community Learning and Development (Scotland) Regulations 2013 place a legal requirement on local authorities to take this role forward and require the publication of a partnership plan every 3 years.
Our Partnership CLD Plan 2021-2024 (PDF)
Summary - English (PDF) Summary - Gaelic (PDF)
Our Partnership CLD Plan has been produced by our Strategic Partnership which brings together providers of community learning and community development in Moray. This is our third partnership plan and it has a particular focus in the first year on how we respond to the lessons of the pandemic and our emerging understanding of who has been affected most by it.
As part of our statutory commitment to the National Gaelic Plan our CLD Plan priorities have been translated here.
The Plan has been endorsed by the Moray Community Planning Partnership and the Moray Council Education, Children's and Leisure Services committee.
Partners will be shifting the balance of delivery to provide more face-to-face support and to create opportunities to help people reconnect within their communities. Partners will also continue to improve and enhance our virtual offer. One of the positive lessons from the last 18 months has been the way in which many of our communities and individual learners have adapted to the virtual world.
Our Partnership CLD Plan has been shaped and informed by the partners from their own perspectives and in response to the input and feedback from existing learners, community organisations and the wider public.
The attached work plan identifies some of the actions being taken forward by the CLD strategic partnership (PDF)
We have identified four strands to our Partnership CLD Plan, which are underpinned by three cross-cutting themes:
Learning for Life
We will work to remove barriers to learning so that people are more likely to reach their potential, leading to improved health, well-being, employability and quality of life.
More people in Moray can access learning opportunities.
Learning opportunities are available in a variety of formats to widen access across Moray.
Active Citizens and Communities
We will work in partnership with our community groups and organisations to progress the things that are important to them and their communities
Local people are actively involved in local decision making and in identifying local priorities.
More people feel they have a say and that their involvement makes a difference.
Participation and Community Voice
We will work with our communities to co-design our processes so that they are inclusive and accessible from the start.
More people get involved in community activity for the first time.
CLD partners are more effective at engaging with and involving local people.
Workforce Development
We will work to deliver quality training and development pathways by accessing learning opportunities and support through local, regional and national networks.
We have a skilled and confident CLD workforce in Moray
More community groups and organisations are able to access training and learning opportunities.  
Cross Cutting Themes
Addressing impacts of rurality and poverty
Improving mental health and well-being
Addressing social isolation and helping people to reconnect.
The Inequalities in Moray Report reflects the lived experience of individuals and the insights of agencies in relation to the impacts of Covid in worsening inequality in Moray. Inequalities in Moray report (PDF)
Communities (CLD) Service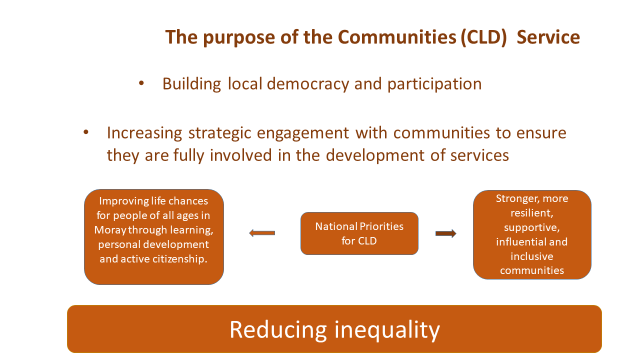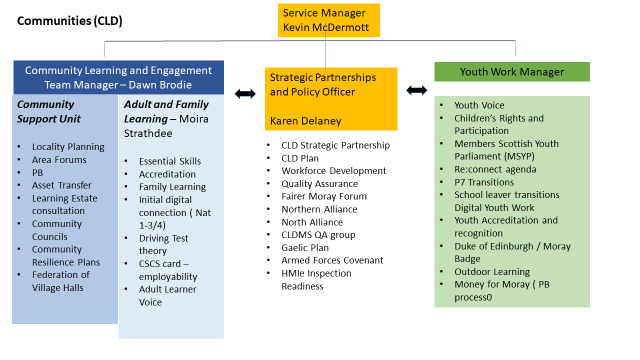 Contact Us
Kevin McDermott
Service Manager

Rate this Page