Community Learning & Development
Moray Council created a new Communities (CLD) Service in April 2021 bringing together Adult and Family Learning, Youth Work, and community development through the Community Support Unit
Community learning and development covers a range of work including youth work, adult leaning and community development.   "CLD should empower people, individually and collectively, to make positive changes in their lives and their communities through learning" (Scottish Government).
Adult & Family Learning     Community Support Unit     Youth Work 
Communities CLD Update
Click the button below to access a SWAY presentation to find out more about some of the work being carried out by the teams and check back in for our quarterly updates.
CLD Update for July - September 2023
Communities CLD Service Updates Archive
Our Partnership CLD Plan 2021-2024
Mid Plan Review (April 2023)
The CLD Strategic Partnership have been reviewing the Partnership CLD Plan. We took part in a self-evaluation session using the How Good Is Our Community Learning and Development 4 framework and have reported back on our Key Performance Indicators and Work Plan as well as capturing some snapshots and case studies.
There is a really good story to be told about the impact of this Partnership approach in delivering on our CLD Plan which we have captured in our Plan on a Page Update.
The requirements for Community Learning and Development (Scotland) Regulations 2013 place a legal requirement on local authorities to take this role forward and require the publication of a partnership plan every 3 years.
Our Partnership CLD Plan 2021-2024 (PDF)
Summary - English (PDF) Summary - Gaelic (PDF)
Our Partnership CLD Plan has been produced by our Strategic Partnership which brings together providers of community learning and community development in Moray.
As part of our statutory commitment to the National Gaelic Plan our CLD Plan priorities have been translated here.
The Plan has been endorsed by the Moray Community Planning Partnership and the Moray Council Education, Children's and Leisure Services committee.
The Inequalities in Moray Report reflects the lived experience of individuals and the insights of agencies in relation to the impacts of Covid in worsening inequality in Moray. Inequalities in Moray report (PDF)
Communities (CLD) Service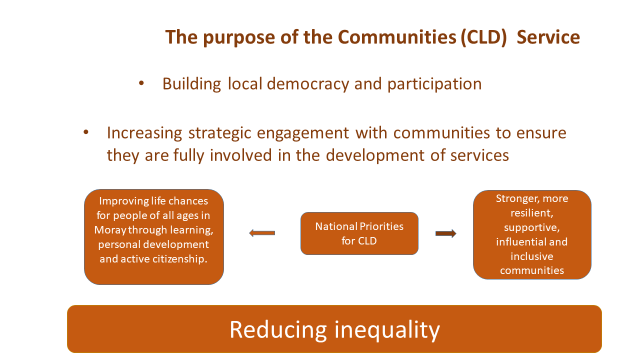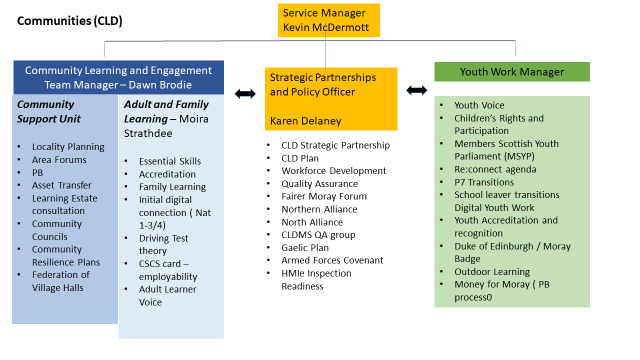 Contact Us
Kevin McDermott
Service Manager

Rate this Page