Scotland's single-use plastics ban: fully effective from 12 August 2022
Scotland's single-use plastic ban will be exempt from the UK Internal Market Act from 12 August 2022, allowing the ban to be fully effective. After this date, the single-use plastic items listed below are fully banned in Scotland unless an exemption applies (e.g. single-use plastic straws).
The ban means it is unlawful to make and supply commercially any of the following single-use plastic items:
Cutlery (forks, knives, spoons, chopsticks and other similar utensils)
Plates;
Beverage stirrers;
Food containers made of expanded polystyrene;
Cups and lids made of expanded polystyrene.
The regulations also make it unlawful to supply commercially the items below. These items are subject to exemptions which allow them to be supplied in particular settings and circumstances:
Plastic straws;
Plastic balloon sticks;
All the restrictions apply to both online and in-store sales, whether they are free or charged for. "Supply" is defined as "supply, whether by sale or not" so supply in the course of a business would include businesses making donations or gifts of items, whether the business donates or gifts to charities in Scotland or in other countries.
Further information about the new regulations and information on more sustainable choices is available at Zero Waste Scotland.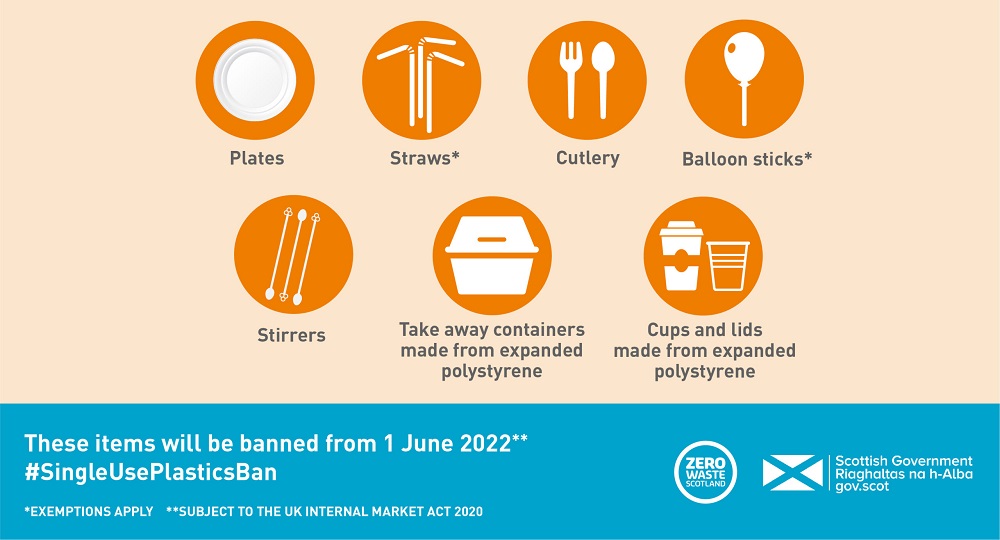 Rate this Page