Nursery Meals
Nursery Menu  Nursery Light Tea Menu  Nursery Vegi and Light Tea Menu
Allergen Information for Nursery Meals  Allergen Information for Nursery Meals in Fochabers and Keith
ELC Meals
All ELC meals need to comply with the Setting the Table standards to support the health and wellbeing of young children.
Healthy eating and physical activity are essential for proper growth and development in childhood. It is important that the food is offered in a caring way and that eating pattern to which children are exposed both at home and outside the home are those which promote positive attitudes and enjoyment of food.
This paves the way for good health and helps children develop patterns of healthy eating from an early age. Children's early experiences of food play an important part in shaping later eating habits, and good eating habits support healthy growth and development, including achieving and maintaining a healthy weight and the foundations for good oral health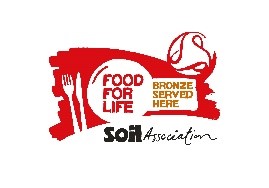 Our ELC meals service aspires and works to achieve the Soil Association Food for Life goals. We are proud holders of the Food for Life Bronze award for our ELC menu and continually strive to provide a service of excellent quality in line with national standards and guidelines. We offer meals where over 75% of the menu is freshly prepared with ingredients that are GM free, with no undesirable E-numbers or hydrogenated fats
Our catering service is proud to be working with local supplier to provide ingredients for the school menu
Free Range Eggs –Allarburn in Elgin
Fruit and Vegetables – Swansons in Elgin
Quality Fresh Meat – Andersons Butcher in Buckie supplies to Buckie, Keith and Fochabers area. Fraser Brothers in Forres supply to Forres, Lossiemouth, Elgin and Speyside Area.
Fresh Bread- Straithisla Bakery provides to Keith and Fochabers area.
Allergen Information
Please see above the allergen information for all our dishes. The Keith and Fochabers ASG have different allergen sheets due to they have a different supplier for Bakery and Butcher.
Adapted Diets
The Catering department can provide adapted menus for children with medically diagnosed food intolerance. If you require a menu please make your ELC setting aware for them to pass your details onto the Catering department.
Contact Us
Catering Officer
Environmental Protection
PO Box 6760
Elgin
IV30 9BX

01343 557086
Rate this Page