Active Schools and Community Sport
What we do?
Active Schools is a national network of staff working across Scotland, and locally across all schools in Moray, to provide more opportunities for children and young people to participate in sport before, during and after school for free or at minimal cost. The team work to increase the number of opportunities available to children by recruiting volunteers, and also work hard to build partnerships with clubs and other community organisations to create a 'pathway' for pupils.
To find out more including activity timetables and contact details, visit our webpage.
To view the Moray Active Schools Annual Report 2021-22, visit our webpage.

What we do?
The Fit Life Sports Development sessions aim to develop the skills and understanding of participants in a variety of different sports. Each session will be delivered by two qualified paid sport coaches and generally take place in local community centres or high schools. The standard cost for a session is £4 although sessions are open to Fit Life members at no additional cost.
To find out more including activity timetables and contact details, visit our webpage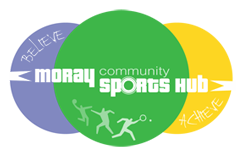 What we do?
Community Sport Hubs provide a home for sport. In Moray they focus on the clubs and other local organisations that want to work together to improve the sport offered in the community of Moray. A Community Sport Hub is focused on the clubs around a sport centre, community centre, school, park or a playing field pavilion. In some cases a Community Sport Hub combines a number of these places, or it may simple centre on a single-venue hosting many clubs. The 'Hub' is essentially a collective of progressive sport clubs working together in a local community.
Each Community Sport Hub is unique but the common thread is that each works to the following five principles:
Growth in participation
Engage the local community
Promote community leadership
Offer a range of sporting opportunities
Bring all appropriate (key) partners/ groups/people together.

To find out more including contact details, visit our webpage
We work with a range of public, private and voluntary partners to assist in the implementation of the Physical Activity, Sport and Health strategy. Some of these partners include Third Sector Interface Moray, Outf!t Moray, SportScotland, NHS Grampian, Forestry Commission, Moray College UHI, Moray Leisure Centre, Moray Sports Centre, sportMoray, national governing bodies (NGBs) of sport, and Paths for All.
The contact details for the Active Schools and Community Sport Team can be viewed here.
 
Follow us on Facebook
Follow us on Twitter
Follow us on YouTube
Sport in Moray
Rate this Page