Findrassie Primary School
Findrassie Masterplan
The Findrassie Masterplan, developed in a strong spirit of collaboration, specifies design and technical requirements for a new neighbourhood which will form the northern extension of Elgin over a 25 year period.  Comprising 100 hectares of housing land with an indicative capacity of 1500 houses, 12 hectares of employment land, a primary school and community facilities.
Findrassie resulted from a collaborative planning and design process, involving landowners (Pitgaveny), Moray Council, Savills, a specialist consultant team (Masterplanners EMA, Ironside Farrar Engineering, Transport Planning, Landscape Architecture, Ian White) with Architecture & Design Scotland providing design review.  
The Masterplan (approved by the Planning & Regulatory Services Committee on 1 December 2015) includes provision for a centrally located school incorporating provision for community facilities, with opportunities for outdoor learning via allotments and an amphitheatre.  It emphasises accessibility by non-motorised forms of transport and a strong network of walking and cycling routes is integrated throughout the development and links into the exiting urban fabric as well as the surrounding countryside.
The Masterplan was subject to public consultation at the key stages of preparation and the finalised masterplan reflects the comments submitted though each consultation process.
---
Findrassie Primary School
Primary school capacity is urgently required to meet anticipated demand for places and Findrassie has been prioritised due to the immediate demographic changes within the area, and forecasted growth of Elgin.
Findrassie Primary School is a planned 450 pupil school with Additional Support Needs (ASN) provision (+ nursery for 45 children).  The masterplan views Findrassie as a community school with its location establishing a focal point within the new neighbourhood.  Completion of the school will align with completion of 500 houses assumed to be within 2024-25 timeframe.
A number of locations were tested through the development of the masterplan, however the proposed location will maximise accessibility throughout the new area and from the wider community as a whole.  It should be located so as to encourage pedestrian and cycle activity rather than car use, although provision will be required for parking, drop off and pickup.
A Findrassie community does not actually exist however the new development is within the Heldon Community Council and close to the Elgin Community Council area.  Concepts for the use of Findrassie as a community school will be discussed with stakeholders throughout the process to ensure it aligns with the communities needs.  
Reflecting the Moray Learning Estate Strategy, the fully digitally-enabled new school will meet the target A for condition and suitability, with a lifetime maintenance plan to make sure the building meets the required B condition for suitability and condition over a period of at least 25 years.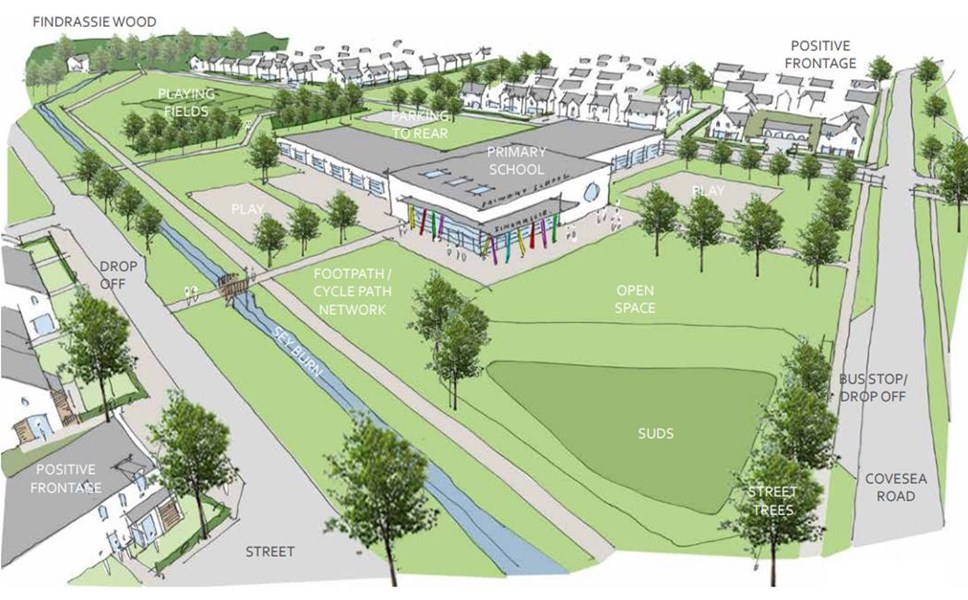 ---
Upcoming Engagement Events 
Your questions, concerns, and feedback will all help shape the development of Findrassie Primary School, so it's important to get involved. Details of upcoming engagement events will be published on our website and social media channels.  
Contact Us
Moray Council Learning Estate Team
Council Office
High Street
Elgin
IV30 1BX

01343 563374
Rate this Page