Climate Change
Greenhouse gas emissions arise from almost every activity we undertake. The main source is the use of fossil fuels to generate electricity, heat buildings and provide transport. Climate change is not caused by, or the responsibility of, one organisation or sector of society. We all have a part to play in our individual and collective actions.
Moray Council has an important role in delivery of the Scottish Government's climate change ambitions. The Government has set targets to reduce greenhouse gas emissions by 80% by 2050. In order to contribute to achieving the deep cuts required the Council has developed a draft Climate Change Action Plan. This plan is intended to provide a clear framework of targets and actions to significantly reducing emissions across Moray.
None can predict the consequences of climate change with complete certainty but enough is known to understand the risks. Many aspects of our lives and lifestyles will be affected by these changes. Moray must adapt to minimise the impacts of the potential scenarios ahead of us.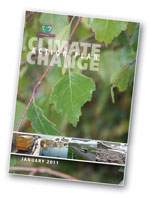 Draft Climate Change Action Plan Consultation –  Available to view (PDF).  (42 pages, 1.12 MB)
Moray Council Carbon Management Plan . The Moray Council has set ambitious targets to reduce CO2 emissions from its own operations from 2009 -2013
Rate this Page