An Introduction to Tracing Your Scottish Family History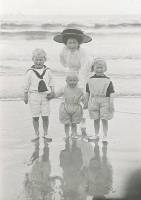 This course provides a basic introduction to tracing your family tree in Scotland, and combines both practical and theoretical skills, to enable you to research your Scottish ancestry more effectively. You will learn to access various sites on the internet e.g Scotland's People, IGI, LIBINDX etc. to enable you to effectively trace your roots. It will consist of: 4 workshops including a visit to the Local Heritage Centre in Elgin , research methods and information technology to develop your analytical skills which will increase your understanding of the web as a research resource.
Entry requirements
Have some knowledge of Computers and must be able to use a mouse. If the learner does not have any computer experience, completing the Equalskills course first would be a good starting point.
Cost
The cost of this course is £65 and includes a Scotland's People starter voucher, an information pack and workbook.
For further information contact:
Elgin Library
Cooper Park
ELGIN
Moray
IV30 1HS
Tel: 01343 562600
Email: elgin.library@moray.gov.uk
Contact Us
Moray Libraries Learning Centres
Elgin Library
Cooper Park
Elgin
IV30 1HS

01343 562603
01343 562640
External Links
Rate this Page